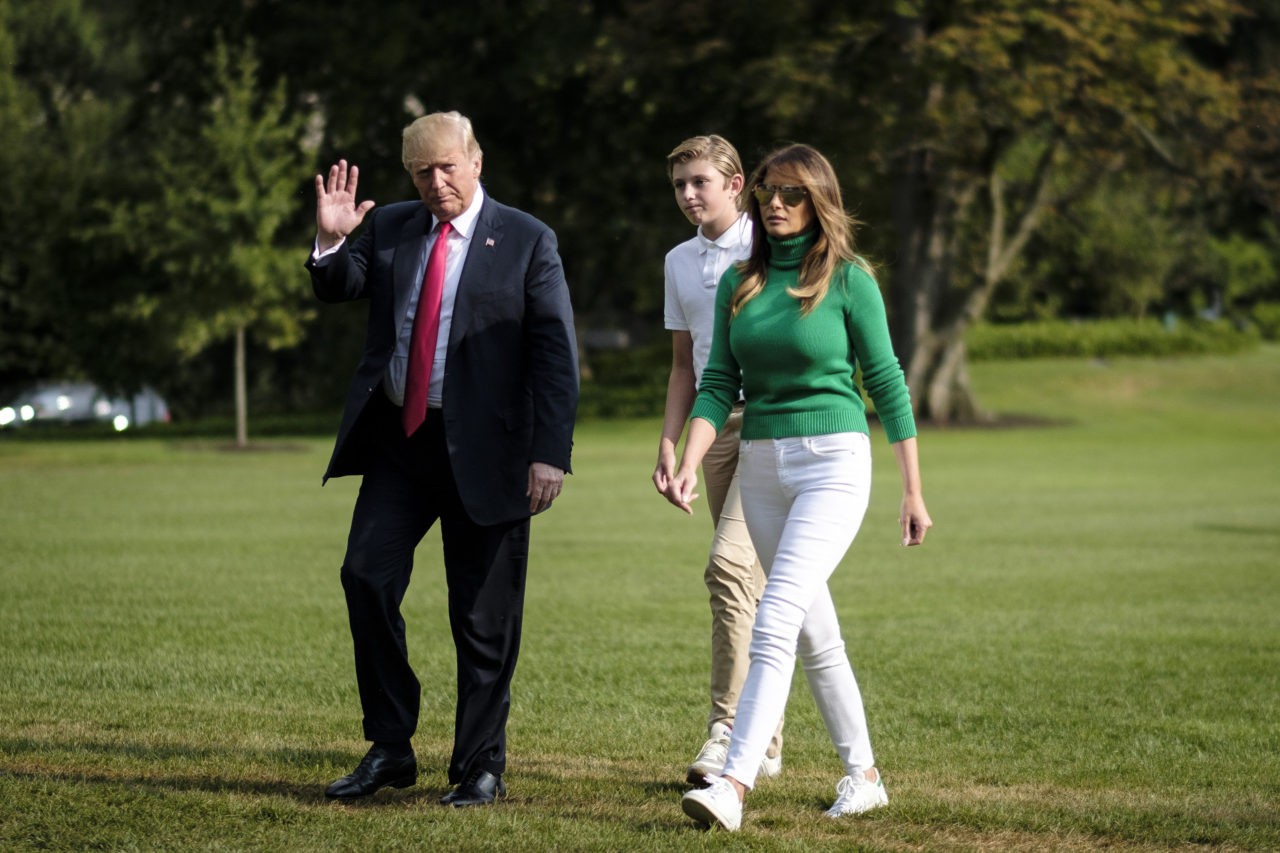 USA first lady Melania Trump (L) listens to University of Texas student Joseph Grunwald recount how he was bullied in high school during a Federal Partners in Bullying Prevention summit.
As part of her "Be Best" campaign, Melania Trump headed to Rockville, Md., early this morning for the Federal Partners in Bullying Prevention (FPBP) Cyberbullying Prevention Summit.
First lady Melania Trump will make a solo trip to Africa later this year, she announced in a statement Monday. A key focus is on youth cyberbullying.
The swing through Africa will be the farthest Mrs. Trump has traveled on her own since becoming first lady in January 2017.
Let's face it, it's probably safe to say he's the biggest cyber bully who ever lived. Her Be Best campaign has emphasized the responsibility of adults in ensuring children's well-being.
During her speech, the first lady acknowledged that children can be more aware of the "pitfalls" of social media than adults.
The antibullying event included a panel discussion with representatives from Google, Facebook, Twitter and the Family Online Safety Institute.
Trump Says He'll Yank Bruce Ohr's Security Clearance 'Very Quickly'
McRaven said he would "consider it an honour" if Mr Trump would revoke his clearance, as well. And that's OK with me, because I like taking on voices like that.
Just minutes after Melania's speech he was attacking John Brennan, whose security clearance he removed last week simply for criticizing him, calling him a "hack" and the "worst CIA Director in our country's history".
Earlier in the day, the president attacked special counsel Robert Mueller's team, which is investigating possible collusion between Russian Federation and the Trump campaign. Ohr's wife, Nellie, worked for Fusion GPS during the campaign - and Trump has been tweeting about the connection to highlight his assertions of political bias behind the Russian Federation investigation.
A New York Times report on Monday even suggested that Trump anticipated how his wife's anti-cyber bullying initiative would be received.
The first lady said she has been particularly impressed by Microsoft's Council for Digital Good, which is aimed at encouraging children to share ideas about positive online habits. "That is why Be Best chooses to focus on the importance of teaching our next generation how to conduct themselves safely and in a positive manner in an online setting", the first lady said after being introduced by Health and Human Services Secretary Alex Azar. He said one in five children experience bullying, and that 16 per cent of children now are victims of cyberbullying.
The conference also heard from Joseph Grunwald, who described his experiences being bullied during middle and high school.
"Because the bullying was also online, I couldn't escape it, no matter where I was", Grunwald said.