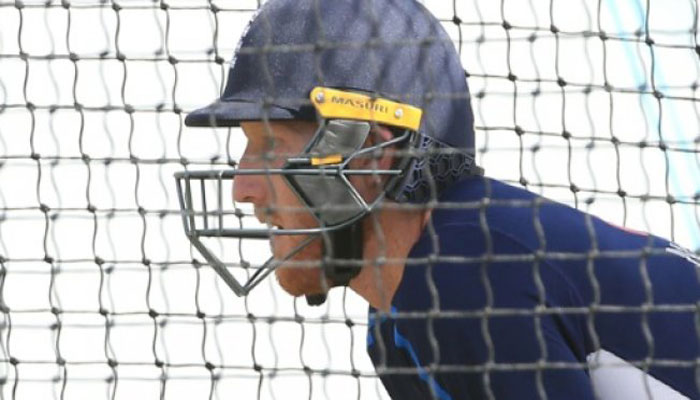 A nod should go to 20-year-old Rishabh Pant amid a fittingly breathless debut too, striking his second ball in Test cricket for six on day one during a promising 24 and, after a gobby send-off from Stuart Broad on the second morning, becoming the third wicketkeeper in history to hold five catches in his first innings behind the stumps.
Ben Stokes, recalled just days after being acquitted of an affray charge on Tuesday following an incident outside a Bristol nightclub in September past year, walked out to a few boos from the crowd.
Yet Kohli, who has shone amid his side's batting ruins, once again dug deep and, ably assisted by Ajinkya Rahane in a superb 159-run fourth-wicket partnership, led his side out of another perilous situation.
Jos Buttler smashed Shami for a six and two fours in one over as he was left to bat with last man James Anderson, until Jasprit Bumrah had him caught with a miscue to wide mid-on.
Pandya made sure that the off-spinner wasn't required at all in the first innings. Cheteshwar Pujara might had done nothing wrong in that case, Woakes applied through the perfection leading to a more flawless catch of Adil Rashid standing at deep backward.
House of Fraser website offline amid reported delivery woes
But XPO has halted work as it tries to convince Sports Direct to honour existing contract terms. Some have taken action while negotiations over payments continue.
England were reeling at 108 for 5 in the 30th over as Stokes' struggle ended with Rahul this time claiming a catch off Mohammed Shami (1/56). His next three wickets came in the space of three balls across the 31st and 33rd over, during which he was on a hattrick as well. The second catch for Pant as Bumrah bowls outside off. Bumrah OUT for 20.
Pandya became the second fastest Indian to take a five-wicket haul when he took just 29 balls to rattle the hosts.
Indian cricket captain Virat Kohli, right, congratulates teammate Hardik Pandya for the dismissal of England's Adil Rashid. Shikhar Dhawan and KL Rahul opened Indian innings and gave visitors a decent start by adding the 60-runs stand for the opening wickets.
For England, James Anderson (3/64), Stuart Broad (3/72) and Chris Woakes (3/75) picked up three wickets apiece. Kohli's side is 0-2 in the five-match series. Both batsmen, however, failed to convert their knocks into three-figure scores, with Kohli falling just three short of his 23rd Test century and the latter getting dismissed for 81.Speaking about his innings post the day's play, Rahane revealed that he and Kohli were looking to keep the score moving once they were settled in.