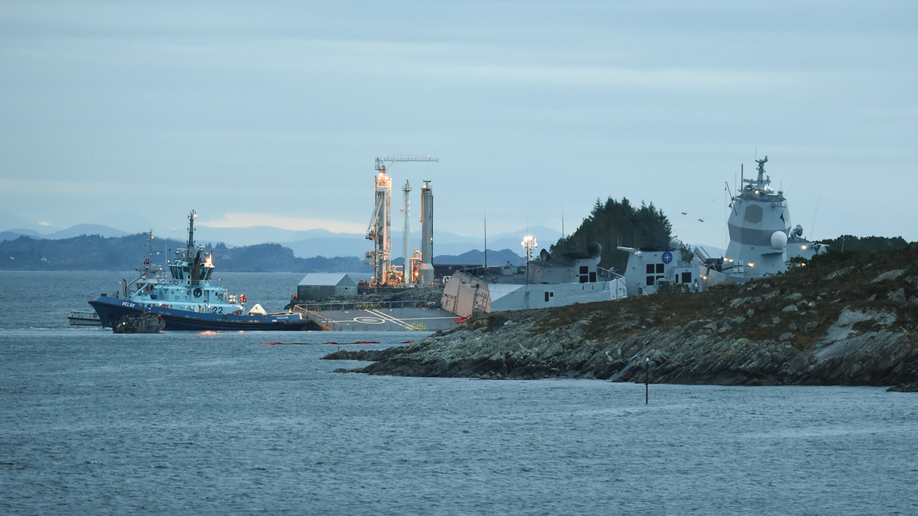 The frigate was on its way home to the Haakonsvern base of the Royal Norwegian Navy on the western coast after taking part in NATO's Trident Juncture 2018 military exercise, which took place from October 25 to November 7 in Norway.
The collision occurred in a western Norway fjord as the KNM Helge Ingstad was returning from North Atlantic Treaty Organisation exercises, with 137 people aboard.
A NORWEGIAN Navy frigate carrying a crew of 137 was rammed by a tanker while in a harbour on the country's west coast, tearing a large hole in its side, the military has said.
The tanker, with 23 crew, suffered damage well above the waterline.
The Sture terminal receives oil via pipelines from North Sea fields, including Oseberg, Grane, Svalin, Edvard Grieg and Ivar Aasen, which in turn is exported to global markets on tankers.
HNoMS Helge Ingstad was taking part in the NATO Trident Juncture exercises.
Ariana Grande: Could she have a secret album out there?
All of this is addressed in the song, naturally, and on Ellen , Ari's poise and control make her delivery of the song an event. Ariana Grande fans are speculating whether the singer has secretly released a whole album under a different identity.
The early morning incident led to the temporary shutdown of a major oil terminal and a gas plant.
Eight people received minor injuries in the accident, which took place shortly after 4:00 am (0300 GMT) in a busy waterway in the Hjeltefjord near Bergen, Norway's army said. The frigate was lying in the water nearly on its side with its stern under the water.
The Equinor Sture oil shipment terminal, from which the oil tanker left fully loaded, was closed as a precautionary measure but reopened Thursday.
According to the Norwegian Coastal Administration, a 10-cubic metre helicopter fuel tank on the frigate was ruptured. There were fears it would sink as it took on water after the crash but it ran aground just off the shore near Bergen.
The KNM Helge Ingstad frigate took on water and was at risk of sinking. While photos show a grayish slick of diesel oil coming from the Ingstad, there are no reports of the Sola leaking any crude oil.
Norway's Accident Investigation Board, which has opened an inquiry, had initially said a tugboat had also been involved in the collision but the Navy later denied that.