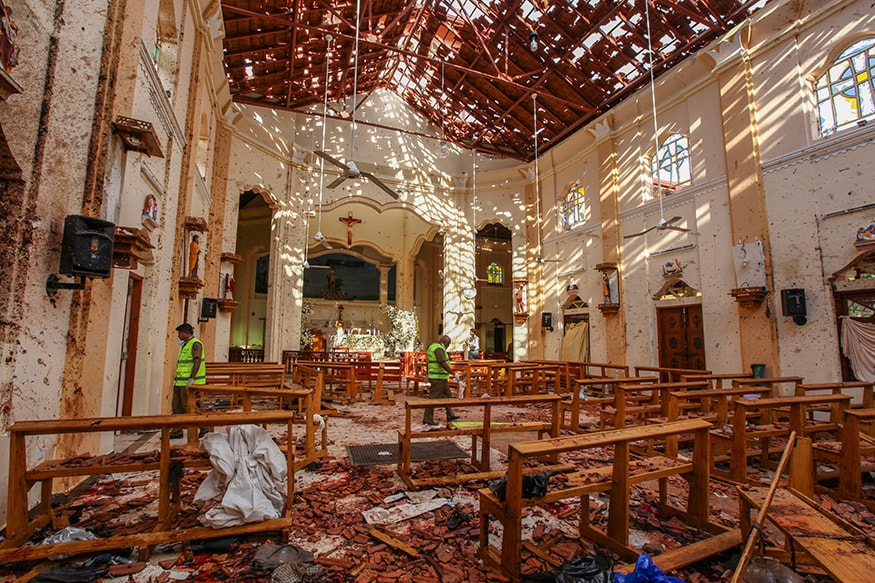 Over a week after the devastating Easter Sunday bombings in Sri Lanka, the country has completely banned all face veils including the burqa.
The country said the hijab and Chador - which do not cover the face - are exempt from the ban.
The country is still reeling from the terror blasts that ripped across three cities on April 21 in several churches and hotels, taking at least 253 lives and leaving hundreds more injured.
"The order specifies that the base criterion for identification is the ability to see the face of an individual clearly".
Identification of those killed at the luxury hotels was hard because numerous bodies were badly mutilated, health authorities have said.
"The President has arrived on this decision to establish a peaceful society with reconciliation by ensuring the national safety and not inconveniencing any community", the statement continued.
Army personnel fix St. Sebastian Church which was damaged during string of suicide bomb attacks on churches and luxury hotels across the island on Easter Sunday, in Negombo, Sri Lanka, April 30, 2019.
Last week, Sri Lanka placed all police stations in Colombo on high alert as police were hunting for an unidentified container truck and a van, believed to be carrying explosives.
Mueller report and obstruction of justice
These officials don't need to comply with confressional committees which probe Trump's alleged obstruction of justice, he added . Accordingly, Judiciary Chair Jerry Nadler has subpoenaed Attorney General William Barr to receive the Mueller report in full .
Sri Lanka's 22 million population is majority Buddhist and includes minority Christians, Muslims and Hindus.
As part of the emergency law, President Maithripala Sirisena imposed a ban on any Muslim face coverings, which could hide people's identities. Islamic State (IS, formerly ISIS) claimed responsibility for the Easter attacks but solid evidence of its involvement has yet to emerge.
Sri Lankan authorities attribute the explosions to the local religious group National Tawheed Jamaath (NTJ) and investigate whether they received any support from outside.
"What happened last Sunday is a great tragedy, an insult to humanity", he added.
In India, police said they had arrested a 29-year-old man in the southern state of Kerala, close to Sri Lanka, for planning similar attacks there.
He said Prime Minister Ranil Wickremesinghe telephoned him on Tuesday morning to assure him that search operations were being conducted and that there was no let-up.
Two other suicide bombers died by triggering blasts - one to avoid capture by the police, and another at an inn he was staying. Then on Friday, in the raid at suspected safe houses around 15 people killed including six children.